---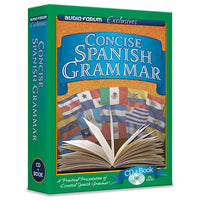 Sale
A Practical Presentation of Essential Spanish Grammar!

Designed for self-study, Concise Spanish Grammar uses the proven Audio-Forum® audio/text method to help you learn Spanish vocabulary, pronunciation, and grammar easily and quickly. An extensive glossary is included for handy reference. Not only will you speak fluently, you'll also master reading, writing, and grammar skills at a scholarly level — all with the confidence and polish of a native Spanish speaker.
There's also an audio list of "indispensables" — useful words or expressions that will help you remain conversationally active when you can't recall the right phrases.

Simple Steps to an Accurate Spanish Accent!
The pronunciation guide helps you identify sounds in Spanish that can be difficult for English speakers and practice saying these sounds. Plus, there are practice sentences recorded in English and Spanish. By listening to and repeating the sentences, you'll reinforce your vocabulary while improving your accent.

* 1.2 hours of audio, 20 units
* The Spanish alphabet
* Diphthongs, syllables, accentuation, punctuation
* Basic vocabulary and grammar exercises
* Verbs and verb conjugation
* Nouns, pronouns, adjectives, articles, verbs, adverbs
* Prepositions, interrogative words, present participles
* Polite and familiar regular and irregular verbs
* Numbers, time, calendar
* Past, present, and progressive subjunctive
* Words that are similar in English and Spanish
* Idiomatic and useful expressions
* Spanish-English/English-Spanish glossary

About the Language
The Spanish taught is that of a well-educated native of Latin America, and the pronunciation is "neutral," in that it is not derived from any specific country. Latin American Spanish is more widely used than European (Castilian) Spanish. The differences between them are comparable to those between British and American English.