---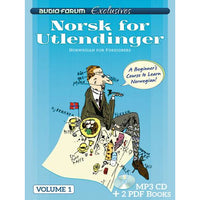 Sale
Norwegian for Foreigners 1

A Beginner's Course to Learn Norwegian!

Developed by Ase-Berit and Rolf Strandskogen, University of Oslo

Norsk for Utlendinger 1 provides a lively introduction to contemporary Norwegian through the use of everyday expressions, practical vocabulary, and stress on social/cultural situations. It includes two books, the Norsk for Utlendinger 1 textbook entirely in Norwegian and the Learner's Guide in English, accompanied by 4.6 hours of audio. The 23 lessons contain dialogs followed by simple explanations of grammar and pronunciation, with reading and writing exercises covering a variety of subjects.
The Learner's Guide includes a key word list with English translations, script in Norwegian of recorded material, an answer key, and a glossary. The authors taught Norwegian at the University of Oslo for many years and have helped English speakers overcome problems in pronunciation and grammar.

While other premium computer-based language courses offer only the means to learn to speak, with the proven Audio-Forum® audio/text method, you'll not only speak fluently, you'll also master reading, writing, and grammar skills at a scholarly level — all with the confidence and polish of a native Norwegian speaker.

* 4.6 hours of audio, 23 lessons
* 188-page text, 128-page Learner's Guide
* Pronunciation guide, grammar notes
* Oral and written exercises
* Greetings
* Food and dining
* Time and date
* Shopping
* Home activities, family
* At the doctor
* Transportation
* Vacation
* At the movies
* Idiomatic expressions
* Indirect speech
* Verb tenses

About the Language
Norwegian (norsk) is spoken by over 5 million people, primarily in Norway, where it is the official language. The Scandinavian languages, Norwegian, Swedish, and Danish, form a continuum of more or less mutually intelligible regional variants. They belong to the North Germanic language family, which also includes Faroese and Icelandic. There are two official forms of written Norwegian, Bokmal (literally "book language"), and Nynorsk (literally "new Norwegian").

Enhanced PDF Features
The Audio Forum® Difference: Audio Forum® PDF books are enhanced with links to MP3 audio files. Speaker icons in the text allow you to hear the corresponding audio. The MP3 files can also be loaded onto your MP3-compatible CD player or digital media player. The PDF books may be read (without enhanced features) on tablet computers. A 10-inch or larger screen is recommended.

System Requirements for Enhanced PDF Features
Mac® OS X® 10.5 & up
Intel® processor
512 MB RAM
Windows® 10, 8, 7, Vista, XP
233 MHz or faster processor
128 MB RAM

Additional Courses Available through Audio-Forum®:
Finnish for Foreigners 1
Finnish for Foreigners 2
FSI: Basic Swedish
Icelandic Conversations
Learn to Speak Danish