---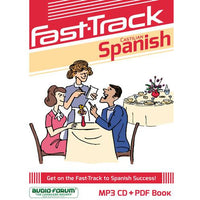 Sale
Get on the Fast-Track to Spanish Success!

Fast-Track Spanish is a streamlined introductory course that provides deeper knowledge and more language practice than a brief course. Perfect for business people and travelers who don't quite have the time for a full course of study, it focuses on spoken language and covers a wide variety of subjects and situations. Explanations of grammar and usage are included when necessary for understanding of specific passages in the text.

Developed by professional linguist Dr. Peter Leimbigler, formerly of Malaspina College, British Columbia, Canada, Fast-Track courses emphasize concrete, everyday situations with a practical objective for all dialogs, sentences, and expressions. There are no lists of words or expressions to memorize. This course teaches Castilian (European) Spanish, but much of it is also applicable to Latin American Spanish.

This Fast-Track Audio-Forum® Course Features
* 3.9 hours of audio, 24 units (lessons)
* Pronunciation, word formation, sentence structure
* Introductions, greeting people
* Third party introductions, business meetings, phone calls
* Spanish family, educational background
* Expressions, invitations, time and dates, numbers
* Asking for directions, transportation, travel
* Shopping, post office
* Pharmacy, doctor's office, barber shop
* In a restaurant, in a hotel, visiting a Spanish home, dinner conversation

About the Language
Spanish, the official language of Spain and most of Latin America, is a Romanic language that originated in the Castile region of Spain. It has more native speakers than any other language except Mandarin Chinese. The differences between Castilian and Latin American Spanish are comparable to those between British and American English, as such languages have evolved separately on either side of the Atlantic over the last few centuries.

Enhanced PDF Features
The Audio Forum® Difference: Audio Forum® PDF books are enhanced with links to MP3 audio files. Speaker icons in the text allow you to hear the corresponding audio. The MP3 files can also be loaded onto your MP3-compatible CD player or digital media player. The PDF books may be read (without enhanced features) on tablet computers. A 10-inch or larger screen is recommended.

System Requirements for Enhanced PDF Features
Mac® OS X® 10.5 & up
Intel® processor
512 MB RAM
Windows® 10, 8, 7, Vista, XP
233 MHz or faster processor
128 MB RAM

Additional Courses Available through Audio-Forum®:
* Fast-Track Czech
* Fast-Track Dutch
* Fast-Track German
* Fast-Track Japanese
* Fast-Track Mandarin Chinese
* Fast-Track Portuguese
* Fast-Track Swahili