---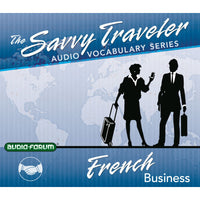 Sale
A fast, easy, effective way to learn the French you need for business!

The Savvy Traveler is the ideal method to learn the French you need for business success. Whether speaking with associates, a group of managers, or the President of a French company, you'll have the right expression to make yourself understood in this fast-moving business world. Communicate effectively with the technical and specialized vocabulary of contracts, banking, sales, budgets, and more. From meetings, to discussions at the office, to working on-the-go, be ready for any business setting when you use Savvy Traveler.

2 Audio CDs + PDF Booklet*

Over 320 essential words and phrases, including:
* Greetings and Introductions
* Meetings, Staff, and Personnel
* Negotiating Contracts and Agreements
* Accounting, Banking, Finance
* Invoicing, Terms of Payment
* Budgeting and Costs
* Sales and Pricing
* Marketing and Advertising
* Manufacturing and Information Technology

*Printable booklet in PDF format (requires computer with a PDF viewer such as Adobe® Reader).