---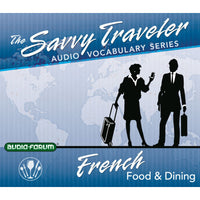 Sale
A fast, easy, effective way to learn the French you need while dining!

The Savvy Traveler is the ideal method to learn the French that will help you maximize your enjoyment of the celebrated foods of la belle France and dining in the French style. Whether you're visiting a modest bistro, a country inn in Burgundy, or even a celebrated restaurant frequented by the rich and famous in New York, you'll know the appropriate words and phrases to make yourself understood. You can communicate effectively and order with poise in nearly any dining place where French is spoken when you use Savvy Traveler.

2 Audio CDs + PDF Booklet*

Over 320 essential words and phrases, including:
* Restaurant Basics, Dinner Menu
* Soups, Meats, Poultry, Fish, Shellfish
* Cooking Methods, Food Preparation, and Sauces
* Types of French Dishes and Cheeses
* Main Course Dishes, Vegetables
* Before-Dinner and After-Dinner Drinks
* Fruits, Breakfast, Desserts and Pastries
* Wines and Wine Regions

*Printable booklet in PDF format (requires computer with a PDF viewer such as Adobe® Reader).