---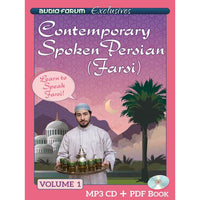 Sale
Learn to Speak Farsi!

Developed by Mehdi Marashi

Today, more Westerners are learning Persian for work, business, or research in various fields. Contemporary Spoken Persian 1 is a self-instructional course for beginners. It emphasizes the spoken language as it is used in everyday situations — the communication skills most commonly needed and most easily acquired. Native speakers provide authentic models in carefully constructed exercises with pauses for repetition.
The lessons contain dialogs, vocabulary, and self-tests, with grammatical explanations where they are necessary for understanding. The text is written entirely in transcription; Persian script is not introduced. It includes a key to the exercises and self-tests and an English-Persian glossary.

* 5.2 hours of audio, 9 units
* 136-page text
* Pronunciation, word stress, syllable structure
* Listening comprehension
* Vocabulary, grammar
* Greetings and expressions
* In the classroom
* Telling time
* Nationalities and languages
* Days of the week
* Fields of study
* Whose is it?
* Family relationships
* People and occupations

About the Language
Persian (called Farsi by Iranian speakers) is spoken by approximately 110 million people, predominantly in Iran and parts of Afghanistan and Tajikistan. The language's roots stretch back to the 6th century through Middle Persian, the religious and literary language of Sassanid Persia, to Old Persian, the language of the Achaemenid Persian Empire. It takes its name from the capital of the Achaemenid Empire, Persis, which was also called Fars or Pars.

Enhanced PDF Features
The Audio Forum® Difference: Audio Forum® PDF books are enhanced with links to MP3 audio files. Speaker icons in the text allow you to hear the corresponding audio. The MP3 files can also be loaded onto your MP3-compatible CD player or digital media player. The PDF books may be read (without enhanced features) on tablet computers. A 10-inch or larger screen is recommended.

System Requirements for Enhanced PDF Features
Mac® OS X® 10.5 & up
Intel® processor
512 MB RAM
Windows® 10, 8, 7, Vista, XP
233 MHz or faster processor
128 MB RAM

Additional Courses Available through Audio-Forum®:
Contemporary Spoken Persian (Farsi) 2
FSI: Basic Amharic 1 * FSI: Basic Amharic 2
FSI: Reading Modern Written Arabic 1 * FSI: Reading Modern Written Arabic 2
FSI: Saudi Arabic Basic Course