---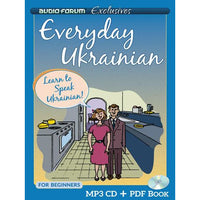 Sale
Learn to Speak Ukrainian!

For Beginners

Developed by Zirka Derlycia, former teacher of Ukrainian, Hunter College, CUNY

Designed for beginners, Everyday Ukrainian features familiar situations and emphasizes the spoken language. Each lesson begins with a short overview of the content, and is built thematically around a specific topic and a basic grammatical concept. Vocabulary and grammar are illustrated with dialogs and basic sentences, using a variety of exercises.

This course covers material equivalent to two semesters of college Ukrainian, and is great for people who want to speak the language for travel or business. Each new lesson builds on the foundation of the previous ones to help you learn quickly and effectively. The text includes an answer key, grammar appendix, and glossary.

* 9.75 hours of audio, 342-page text, 10 lessons
* Ukrainian history, geography, and language
* Ukrainian alphabet and pronunciation
* Greetings
* Brief conversations and essential phrases
* Use of nouns and prepositions, adjectives, and verbs
* Time and date
* Family and workplace
* At the doctor
* At home
* Personal hygiene
* Food and clothing
* Professions and activities
* Shopping
* Travel and transportation

About the Language
Ukrainian is the native language of about 30 million people, both in Ukraine, where it is the official state language, as well as in many of the neighboring nations of Eastern Europe, and it sustains a rich literary tradition. It is a member of the East Slavic language family and is closely related to Belarusian, Polish, Serbo-Croatian, Slovak, and Russian. Written Ukrainian uses a variant of the Cyrillic script.

Enhanced PDF Features
The Audio Forum® Difference: Audio Forum® PDF books are enhanced with links to MP3 audio files. Speaker icons in the text allow you to hear the corresponding audio. The MP3 files can also be loaded onto your MP3-compatible CD player or digital media player. The PDF books may be read (without enhanced features) on tablet computers. A 10-inch or larger screen is recommended.

System Requirements for Enhanced PDF Features
System Requirements for Enhanced PDF Features
Mac® OS X® 10.5 & up
Intel® processor
512 MB RAM
Windows® 10, 8, 7, Vista, XP
233 MHz or faster processor
128 MB RAM

Additional Courses Available through Audio-Forum®:
Basic Estonian
FSI: Basic Bulgarian 1
FSI: Basic Bulgarian 2
FSI: Basic Serbo-Croatian 1
FSI: Basic Serbo-Croatian 2