---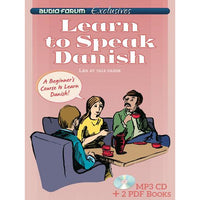 Sale
Laer at tale dansk

A Beginner's Course to Learn Danish!

Developed in Copenhagen by Aage Salling

Learn to Speak Danish provides a lively introduction to the Danish language. It includes two books, the Learn to Speak Danish textbook written entirely in Danish and the Learner's Guide in English, accompanied by 6.25 hours of audio recorded by two native speakers. The 77 lessons, covering a vocabulary of 1,100 words, begin with mini-stories relating to life in Denmark, and emphasize the spoken language as it is used in everyday situations. Grammar instruction is included where necessary. There's also a complete vocabulary list in English, German, and Spanish. The Learner's Guide contains English translations for the Danish words introduced in each lesson.

* 6.25 hours of audio, 77 lessons
* 200-page text, 42-page Learner's Guide
* Vocabulary and grammar notes
* Numbers, time and date
* People, family, home
* Human anatomy
* Transportation
* Food and dining
* Post office
* Descriptors, objects
* Money
* Clothing
* Farm and nature
* Professions
* Countries, nationalities
* School
* Holidays
* Situations

About the Language
Danish (dansk) is spoken by about 6 million people in Denmark and parts of northern Germany, as well as in the Faroe Islands, Greenland, Norway, Sweden, the United States, Canada, Brazil, and Argentina. The Scandinavian languages, Norwegian, Swedish, and Danish, form a continuum of more or less mutually intelligible regional variants. They belong to the North Germanic language family, which also includes Faroese and Icelandic.

Enhanced PDF Features
The Audio Forum® Difference: Audio Forum® PDF books are enhanced with links to MP3 audio files. Speaker icons in the text allow you to hear the corresponding audio. The MP3 files can also be loaded onto your MP3-compatible CD player or digital media player. The PDF books may be read (without enhanced features) on tablet computers. A 10-inch or larger screen is recommended.

System Requirements for Enhanced PDF Features
Mac® OS X® 10.5 & up
Intel® processor
512 MB RAM
Windows® 10, 8, 7, Vista, XP
233 MHz or faster processor
128 MB RAM

Additional Courses Available through Audio-Forum®:
Finnish for Foreigners 1
Finnish for Foreigners 2
FSI: Basic Swedish
Icelandic Conversations
Norsk for Utlendigner 1 (Norwegian for Foreigners 1)