---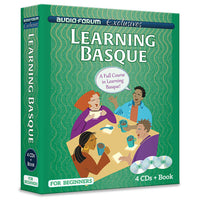 Sale
A Full Course in Learning Basque!

For Beginners

Developed by Xabier Gereño

The Basque language is unique, belonging to no linguistic family. It is believed to be one of the few surviving Pre-Indo-European languages in Europe. Those who have a basic command of Spanish or another Romance language may find the grammar and structure of the Basque language more familiar than those who know English only. Developed by a teacher in Bilbao, the course is in the dialct of Bilbao, the capital of Vizcaya, one of the three provinces of Spain in which Basque is spoken.
Part I contains 40 lessons that provide vocabulary, basic sentences, and grammar; Part II contains complete charts of verb conjugations and declensions introduced in the preceding lessons. This program shows you how to navigate the difficulty of learning verb structures and linguistic relationships that are not found in English. Prepositions, which play a vital role in both English and Basque, rarely correspond to just one English equivalent, but can be translated in various ways. Grammatical terminology is kept to a minimum, though, so you'll be able to enjoy the adventure of learning Basque.

* 2.3 hours of audio, 40 lessons
* 176-page text
* Basic vocabulary of approximately 1000 words
* Translations of over 1300 sentences
* Conversations on various subjects
* Family and relationships
* At home
* Time and date
* Descriptors
* Colors
* Numbers
* Seasons
* Holidays
* Workplace
* Shopping
* Objects
* Action words
* Pronouns, adjectives, adverbs, verbs

About the Language
Basque, with about 720,000 native speakers, is a language ancestral to the Basque people, whose homeland is the Basque Country spanning the border of northeastern Spain and southwestern France. The language is unrelated to any other spoken in Europe and its origins are not conclusively known. It is thought that early forms of Basque developed prior to the arrival of Indo-European languages in the area, including the Romance languages that surround the Basque-speaking region.