---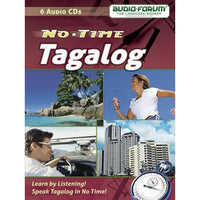 Sale
This is an Instant Download.
Learn by Listening! Speak Tagalog in No Time!
No Time to Study a Language? No Problem!
The No-Time Language Method uses a unique "listen and understand" technique, which lets you naturally absorb vocabulary, grammatical usage, and conversational style through continued listening and repetition. You can learn by listening while driving, cooking, gardening, walking, exercising — just about anywhere!
The No-Time Method was developed by well-known writer and language expert A.E. Van Vogt, author of 46 books. This proven method has been helping people learn new languages for over 30 years.
No-Time courses offer deep introductory-level programs featuring conversation, speaking, and vocabulary. Master the basics of a language for travel or business using contemporary sentences that go beyond a simplistic level, with extensive vocabulary and conversation practice. Plus, the course includes an explanation of the language's structure and grammar. Before you know it, you'll acquire vocabulary and comprehend sentence structure just by hearing it — it works!
* 5.8 hours of audio
* Origins of Tagalog
* Essential words and phrases, essential grammar
* Travel, greetings and introductions
* Verb forms, present and future tenses
* Possessive adjectives, pronouns
* Descriptors, action words
* Connective forms, imperative forms
* People and family
* Numbers and dates, money
* Spelling and literal translations