---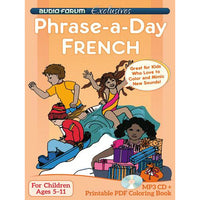 Sale
This is an Instant Download.
For Children Ages 5–11

By Judith White

Great for Kids Who Love to Color and Mimic New Sounds!
Phrase-a-Day French is a fun way for young children to learn words and phrases in French that are easy to say and relate to their daily lives. Children learn a variety of everyday expressions by listening and coloring. The illustrations, vocabulary, and activities are organized by seasons of the year. All voices on the audio, both adults and children, are native speakers, and are accompanied by original music and sound effects.
First, listen to the audio together and encourage the young learner to imitate everything the parents and children say. Then, follow along in the coloring book, where the child can color, draw, and add to the pictures. Encourage the child to repeat listening to the audio, to mimic the French voices, and to share original drawings with you. Choose one phrase daily and use it in context at home, at school, or at play.

* 50 minutes of audio
* 107-page coloring book with text
* Winter Talk, Spring Talk, Summer Talk, and Fall Talk sections
* Activities
* Clothing
* Games
* Feelings
* At home
* Food and dining
* Weather
* Human anatomy
* Telling time
* Sports
* Birthdays
* Numbers
* Going to bed
* Holidays

About the Language
French is a Romanic language, one of a group of languages descended from Latin. It is the official language in 29 countries, and is spoken from France to the islands of Tahiti. With over 100 million speakers, it is an important international language, and is considered by many to be the language of diplomats and theorizers.

Enhanced PDF Features
The Audio Forum® Difference: Audio Forum® PDF books are enhanced with links to MP3 audio files. Speaker icons in the text allow you to hear the corresponding audio. The MP3 files can also be loaded onto your MP3-compatible CD player or digital media player. The PDF books may be read (without enhanced features) on tablet computers. A 10-inch or larger screen is recommended.

System Requirements for Enhanced PDF Features
Mac® OS X® 10.5 & up
Intel® processor
512 MB RAM
Windows® 10, 8, 7, Vista, XP
233 MHz or faster processor
128 MB RAM

Additional Courses Available through Audio-Forum®:
Phrase-A-Day Spanish