---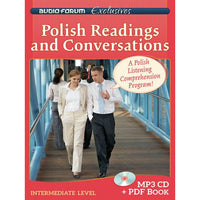 Sale
This is an Instant Download.
Intermediate Level

A Polish Listening Comprehension Program!

This intermediate-level listening comprehension program includes recordings and readings from contemporary Polish publications, as well as conversations about everyday activities. English translations are provided in a separate section of the book.
The program is based on the book Communicating in Polish, which was developed by the Foreign Service Institute, U.S. Department of State. English translations and cultural notes were prepared by Dr. Maria Swiecicka-Ziemianek, Department of Germanic and Slavic Languages and Literature, Temple University.

* 47 minutes of audio, 7 parts
* 63-page text
* Dialogs in Polish with separate English translations
* Travel situations
* Going to restaurants
* Getting around
* Hotels
* Transportation
* Post office
* Social customs and celebrations
* Historical interests
* Shopping
* Cultural notes

About the Language
Polish (język polski or polszczyzna), the native language of about 40 million people, belongs to the West Slavic language family. It is the official language of Poland, and is widely spoken in parts of the neighboring countries of Belarus, Lithuania, and Ukraine, as well as in Polish emigrant communities all over the world. It is the second most widely spoken Slavic language, after Russian, and has developed a rich literary tradition over the centuries.

Enhanced PDF Features
The Audio Forum® Difference: Audio Forum® PDF books are enhanced with links to MP3 audio files. Speaker icons in the text allow you to hear the corresponding audio. The MP3 files can also be loaded onto your MP3-compatible CD player or digital media player. The PDF books may be read (without enhanced features) on tablet computers. A 10-inch or larger screen is recommended.

System Requirements for Enhanced PDF Features
Mac® OS X® 10.5 & up
Intel® processor
512 MB RAM
Windows® 10, 8, 7, Vista, XP
233 MHz or faster processor
128 MB RAM

Additional Courses Available through Audio-Forum®:
Conversational Polish
Speaking Polish in Poland