---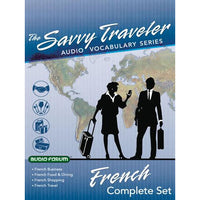 Sale
The Savvy Traveler
Audio Vocabulary Series

French
Complete Set

6 CDs

French Business
French Food & Dining
French Shopping
French Travel

A fast, easy, effective way to learn the French you need for travel, shopping, dining, and business!

The Savvy Traveler gives you the vocabulary you'll need for traveling and doing business in France or other French-speaking countries. Have the right words and phrases to make yourself understood as you go through customs, arrange transportation and lodging, savor delicious meals and beverages, and shop for everything from necessities to luxurious gifts. Communicate easily and effectively in business settings from a conversation with associates to a meeting with the President of a French company. It's easy when you use Savvy Traveler!

6 Audio CDs + PDF Booklets*

Over 1000 Essential Words and Phrases!

Travel includes:
* Upon Arrival
* Airport and City Transportation
* Asking for Directions
* Medical Needs
* Train Travel
* At the Hotel
* Everyday and Emergency Situations
* Points of Interest
* Entertainment, Shopping, Dining

Food & Dining includes:
* Restaurant Basics, Dinner Menu
* Soups, Meats, Poultry, Fish, Shellfish
* Cooking Methods and Sauces
* French Dishes and Cheeses
* Main Courses, Vegetables
* Before-Dinner and After-Dinner Drinks
* Fruits, Breakfast, Desserts and Pastries
* Wines and Wine Regions

Shopping includes:
* Store Talk Basics
* Clothing and Fabrics
* Leather Goods and Accessories
* Antiques and Art
* Jewelry and Stationery Items
* Bookstore, Pharmacy, Perfume Shop
* Currency and Shopping
* Numbers and Other Indispensables

Business includes:
* Greetings and Introductions
* Meetings and Personnel
* Negotiating Contracts and Agreements
* Accounting and Finance
* Invoicing, Terms of Payment
* Budgeting and Costs
* Sales and Pricing
* Marketing and Advertising
* Manufacturing and Information Technology

www.audioforum.com

*Printable booklets in PDF format (requires computer with a PDF viewer such as Adobe® Reader).