---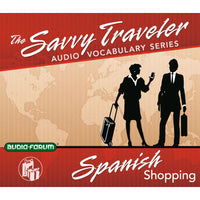 Sale
A fast, easy, effective way to learn the Spanish you need while shopping!

The Savvy Traveler is the ideal method to learn the Spanish vocabulary you need to be a knowledgeable shopper and experience the fun and adventure of shopping in Spain or Mexico. Whether you're visiting an elegant boutique, a pharmacy, an open-air market filled with colorful handicrafts, or the glamorous salon of a famous couturier, you'll know the appropriate words and phrases to communicate easily and effectively. You'll be able to find the right store for the right item for the right price when you use Savvy Traveler.

Audio CD + PDF Booklet*

Over 240 essential words and phrases, including:
* Store Talk Basics
* Clothing and Fabrics
* Leather Goods and Accessories
* Antiques and Art
* Ceramic Ware and Handicrafts
* Jewelry and Stationery Items
* Bookstore, Drugstore, Pharmacy
* Sales Transactions
* Numbers and Other Indispensables

*Printable booklet in PDF format (requires computer with a PDF viewer such as Adobe® Reader).