---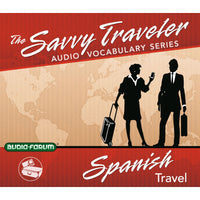 Sale
This is an Instant Download.
A fast, easy, effective way to learn the Spanish you need while traveling!

The Savvy Traveler gives you the Spanish you need to make your travels through Spain or Mexico easier and much more enjoyable. It's the ideal way to learn the specific words and phrases that will help you go through customs, make a phone call, take a flight or train to another city, ask directions, or tell the taxi driver where to take you. Know the right words and phrases to communicate easily and effectively in Spanish when you use Savvy Traveler.

MP3 Audio + PDF Booklet*

Over 250 essential words and phrases, including:
* Upon Arrival, Airport and City Transportation
* Asking for Directions
* Medical Needs
* Train Travel
* At the Hotel
* Everyday and Emergency Situations
* Points of Interest
* Cities, Regions, Historical Places
* Entertainment, Shopping, Dining
* Weather, Indispensables
* Numbers, Days of the Week

*Printable booklet in PDF format (requires computer with a PDF viewer such as Adobe® Reader).