---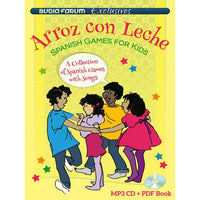 Sale
A Collection of Spanish Games with Songs

By Martha A. Baskin

Spanish Games for Kids is a delightful collection of twelve games accompanied by songs that can be played and sung in Spanish or in English. Most of the games are hundreds of years old, yet still popular in modern Spain and Latin America. Includes such favorites as Arroz con leche (Rice Pudding) and La víbora de la mar (The Serpent of the Sea), a tug-of-war game. The bilingual booklet contains lyrics and sheet music plus cultural notes.

With the exception of Cabeza, hombros, a game the author devised to teach students the parts of the body as well as numbers, these are traditional games she played as a child in Argentina. Most of them have been used successfully in American schools, either in the classroom or on the playground, as a fun way to reinforce foreign language learning.

Although the materials are traditional, you'll be struck by the timeless pedagogic value they have. In addition to teaching specifics such as occupations, addition, and the alphabet, games provide children the opportunity to wait their turn, to be good followers, good participants, and good leaders. The kinetic movements involved help them internalize information.

* 1 MP3 Audio CD with PDF Book
* 12 songs and games
* 30-page text with sheet music
* Arroz con leche (Rice Pudding)
* El patio de mi casa (The Patio in My House)
* Se me ha perdido una niña (I Have Lost a Maiden)
* San Seriní (Saint Seriní)
* Jugaremos en el bosque (We Will Play in the Woods)
* Federico (Federico)
* Aserrín Aserrán (Let's Chop Wood)
* Cabeza, hombros (Head and Shoulders)
* La víbora de la mar (The Serpent of the Sea)
* Doña Ana (Mrs. Anne)
* La Blanca Paloma (The White Dove)
* La Farolera (The Lamplighter)

About the Language
Spanish is a Romance language — a language descended from Latin — that originated in the Castile region of Spain. With approximately 470 million native speakers in numerous countries, it is the second most widely spoken language in the world, and is one of the six official languages of the United Nations.

Enhanced PDF Features
The Audio Forum® Difference: Audio Forum® PDF books are enhanced with links to MP3 audio files. Speaker icons in the text allow you to hear the corresponding audio. The MP3 files can also be loaded onto your MP3-compatible CD player or digital media player. The PDF books may be read (without enhanced features) on tablet computers. A 10-inch or larger screen is recommended.

System Requirements for Enhanced PDF Features
Mac® OS X® 10.5 & up
Intel® processor
512 MB RAM
Windows® 10, 8, 7, Vista, XP
233 MHz or faster processor
128 MB RAM

Additional Courses Available through Audio-Forum®:
Phrase-A-Day Spanish