---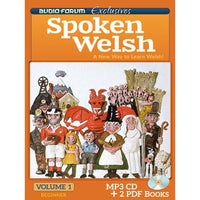 Sale
This is an Instant Download.
Volume 1

A New Way to Learn Welsh!

Developed in Wales by Basil Davies and Cennard Davies

Spoken Welsh 1 is a beginner's course that consists of two books, Catchphrase 1 and The ABCs of Welsh, accompanied by 7.6 hours of audio.
Catchphrase 1, based on the popular Radio Wales Welsh language lessons, presents the general structure of the language. You'll learn to use Welsh in basic situations with explanations in clear, non-grammatical terms. Emphasis is upon speaking the language rather than speaking about it. Includes 20 lessons containing dialogs, explanations of the main patterns, and exercises, plus answer keys and a glossary.
The ABCs of Welsh is unique: It uses a genuine learner, London-born Carole Watkins, taught by three teachers from North, West, and South Wales, who give you the ABCs of Welsh — and all other letters in the alphabet as well! Contains 32 units focused on everyday speech.

While other premium computer-based language courses offer only the means to learn to speak, with the proven Audio-Forum® audio/text method, you'll not only speak fluently, you'll also master reading, writing, and grammar skills at a scholarly level — all with the confidence and polish of a native Welsh speaker.

* 7.6 hours of audio, 20 lessons and 32 units
* 258-page text, 171-page supplementary text
* Pronunciation guide, grammar notes
* Greeting people
* Asking the way
* Shopping, dining
* Calling the doctor, ailments
* Buying a home
* Talking about the past and the future
* Describing people, comparing things
* Age, dates, time
* Weather
* Holidays and festivals
* Commands and questions
* Ownership
* Dislikes

About the Language
Welsh (Cymraeg or y Gymraeg) belongs to the Brittonic branch of the Celtic language family. It is spoken by over 740,000 people in total — throughout Wales, where it is an official language, as well in the English border towns and in the Welsh emigrant communities located in the Chubut province of Argentina. The United Kingdom and Argentina recognize Welsh as a minority language. Historically, it has also been called Cambrian, Cambric, and Cymric.

Enhanced PDF Features
The Audio Forum® Difference: Audio Forum® PDF books are enhanced with links to MP3 audio files. Speaker icons in the text allow you to hear the corresponding audio. The MP3 files can also be loaded onto your MP3-compatible CD player or digital media player. The PDF books may be read (without enhanced features) on tablet computers. A 10-inch or larger screen is recommended.

System Requirements for Enhanced PDF Features
Mac® OS X® 10.5 & up
Intel® processor
512 MB RAM
Windows® 10, 8, 7, Vista, XP
233 MHz or faster processor
128 MB RAM

Additional Courses Available through Audio-Forum®:
* Spoken Welsh 2
* Gaelic Made Easy
* Icelandic Conversations