---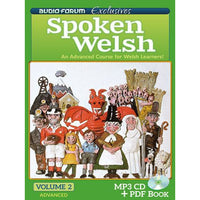 Sale
This is an Instant Download.
Volume 2

An Advanced Course for Welsh Learners!

Developed in Wales by Basil Davies and Cennard Davies

Spoken Welsh 2, based on the popular Radio Wales Welsh language lessons, continues in the same format as Spoken Welsh 1 and gives greater attention to regional differences. Many of the dialogues, recorded by professional actors, are in both North and South Wales dialects, to familiarize you with the natural variety of spoken Welsh.
This course includes the Catchphrase 2 book plus 1.63 hours of audio, and is intended for advanced learners who already have a sound grasp of the basics of the language and have mastered Catchphrase 1. While Volume 1 gave beginners a general idea of the structure of the language, Volume 2 builds upon that foundation and introduces the finer aspects of Welsh. The main features of the language are used in this second volume, while the content reflects recent ideas in language teaching.

While other premium computer-based language courses offer only the means to learn to speak, with the proven Audio-Forum® audio/text method, you'll not only speak fluently, you'll also master reading, writing, and grammar skills at a scholarly level — all with the confidence and polish of a native Welsh speaker.

* 1.63 hours of audio, 15 lessons
* 183-page text
* Vocabulary and exercises
* Conversations and dialogs on various subjects
* At the folk museum
* Making a date
* An inquisitive mother!
* I'm not allowed to!
* Do you know…?
* A merry Christmas
* A word for every occasion
* Here's the news
* Which order?
* Interests
* Complaining and apologizing

About the Language
Welsh (Cymraeg or y Gymraeg) belongs to the Brittonic branch of the Celtic language family. It is spoken by over 740,000 people in total — throughout Wales, where it is an official language, as well in the English border towns and in the Welsh emigrant communities located in the Chubut province of Argentina. The United Kingdom and Argentina recognize Welsh as a minority language. Historically, it has also been called Cambrian, Cambric, and Cymric.

Enhanced PDF Features
The Audio Forum® Difference: Audio Forum® PDF books are enhanced with links to MP3 audio files. Speaker icons in the text allow you to hear the corresponding audio. The MP3 files can also be loaded onto your MP3-compatible CD player or digital media player. The PDF books may be read (without enhanced features) on tablet computers. A 10-inch or larger screen is recommended.

System Requirements for Enhanced PDF Features
Mac® OS X® 10.5 & up
Intel® processor
512 MB RAM
Windows® 10, 8, 7, Vista, XP
233 MHz or faster processor
128 MB RAM

Additional Courses Available through Audio-Forum®:
* Spoken Welsh 1
* Gaelic Made Easy
* Icelandic Conversations